Ray Magic® SL (Slim) is a high performance hydronic radiant gypsum panel. It comes finished with CertainTeed 1⁄2" gypsum board with AirRenew® and is installed within the ceiling to create an unobstructed radiant surface.
Ray Magic® SL is 2'x8′ in size but can be cut down into two 2'x4′ panels to fit smaller spaces.
Ray Magic® SL ships in a two-panel format (4′x8′ in size) that will need to be split into two 2′x8′ panels on site.
The panel consists of a 11⁄2″ thick EPS board with laid down aluminum heat transfer plates with propriety omega shaped channels. Pressed into these channels are two symmetrical 8 mm PEX radiant tubing circuits laid out in a serpentine pattern. Each tubing circuit is connected in parallel to 16 mm PEX return and supply lines that run along the length of the panel. Panels are connected together using slide-in patented fitting technology that allows for internal PEX piping expansion and contraction.

Table Header

Quick and easy to install with panel slide-in patented fitting technology

High heating and cooling performance

Tubing footprint and screw template laser engraved (ink free)

Works with 16mm or 1/2" PEX header lines

Panel pre-cut opening window to access fittings in case of necessity
Nominal size

W
4′ [1219 mm]


L

8′ [2438 mm]


H

2" [51 mm]
Weight

Wet weight (with H2O): 70 lbs [32 kg]
Dry weight: 66 lbs [30 kg]
Two-panel 4'x8x format: 80 lbs [38 kg]
Table Header

CertainTeed high density 1/2" gypsum board with AirRenew® technology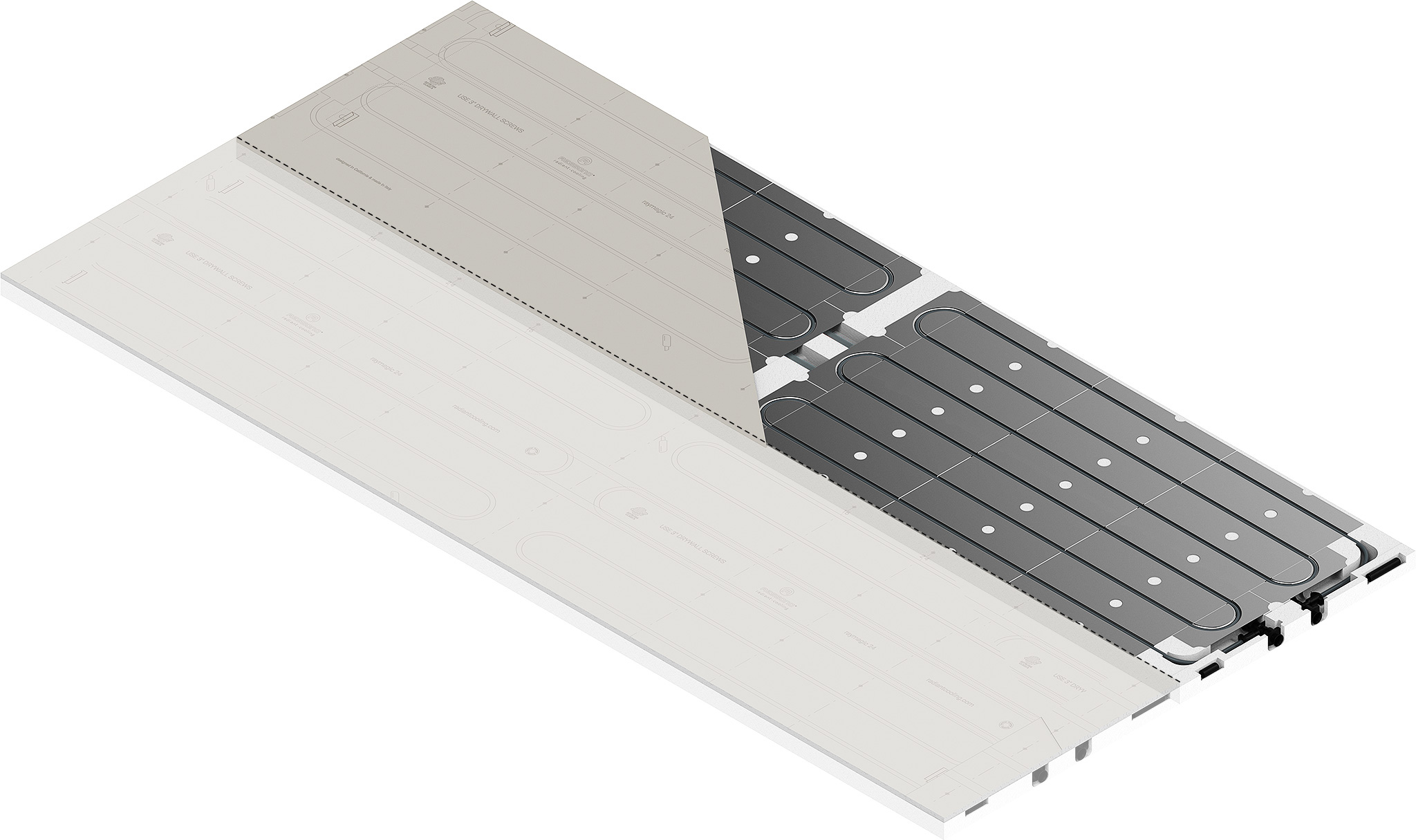 Table Header

Up to 8 panels per loop (use expansion joint after 4 panels connected in series)

use (2) RM couplings (included in each panel)

use (2) RM caps (included in each panel)

use Messana 16 mm pre-insulated PEX pipe. Tested also with 1/2" PEX pipe

Aluminum plates omega-shaped to wrap around the pipe to increase thermal exchange surface

0.016 inch [0.4mm], 27 gauge

0.21 W/mK (1/2″ gypsum board)

8 mm [≈ 5⁄16"] PEX 3-layer pipe with EVOH oxygen barrier

3 3⁄8" o.c. [100 mm], 3" max cut-out allowed

48 ft per circuit, two circuits per panels (total 96 ft of piping)

32 sq.ft. (total panel surface)

28.8 sq.ft. (total active surface)

Fluid operating temperature

23.2 Btu/h/sq.ft @55 °F (Max 36.2 Btu/h/sq.ft @46 °F) with 76 °F room temperature

28.0 Btu/h/sq.ft @100 °F (Max 59.2 Btu/h/sq.ft @130 °F) with 70 °F room temperature

1.4 ft of head [0.6 psi] @0.22 gpm / 50 °F

20 to 40 psi (air pressure test at 100 psi)

0.46 gal [1.75 lt], equivalent to approximately 4 lb [1.8 Kg] of water

1 1⁄2" EPS board ASTM E84 (Class A rated)

1. 

Ray Magic SL is 2'x8' in size. Panels are manufactured in a 4′x8′ format that included two Ray Magic SL panels. The 4'x8' panel must be cut along the split line on the job site. Unless differently specified, all data refer to one single 2'x8' Ray Magic SL panel (no the package of two).

2. 

Size, weights and technical characteristics may vary without prior notice.
1. 
These thermal performance charts are based on a correlation between internal testing performed using thermal imaging of the panel surface and the test results, according to the nominatives EN 14240 (cooling) and EN 14037 (heating), performed on the previous version of the Ray Magic® panel.
Ray Magic®, comfort from above...
The way nature intended.​