Pre-insulated 1/2" PEX-a pipe
Pre-insulated 1/2″ crossed-linked polyethylene (PEX-a) pipe with a three layer EVOH oxygen barrier. The pipe comes insulated with a tubular expanded polyethylene foam (EPE) 3/8″ (10 mm) thick covered with an extra layer of polyethylene film (PE) to protect the insulation during the installation. The pipe is available in 100 ft (31 m) boxed coils or in 2.4 m (approx 8 ft) straight lengths. The maximum temperature and pressure ratings of the tubing are in accordance to ASTM F876 and CSA B137.5. This pipe is specifically designed for radiant heating and cooling systems with insulation to prevent condensation.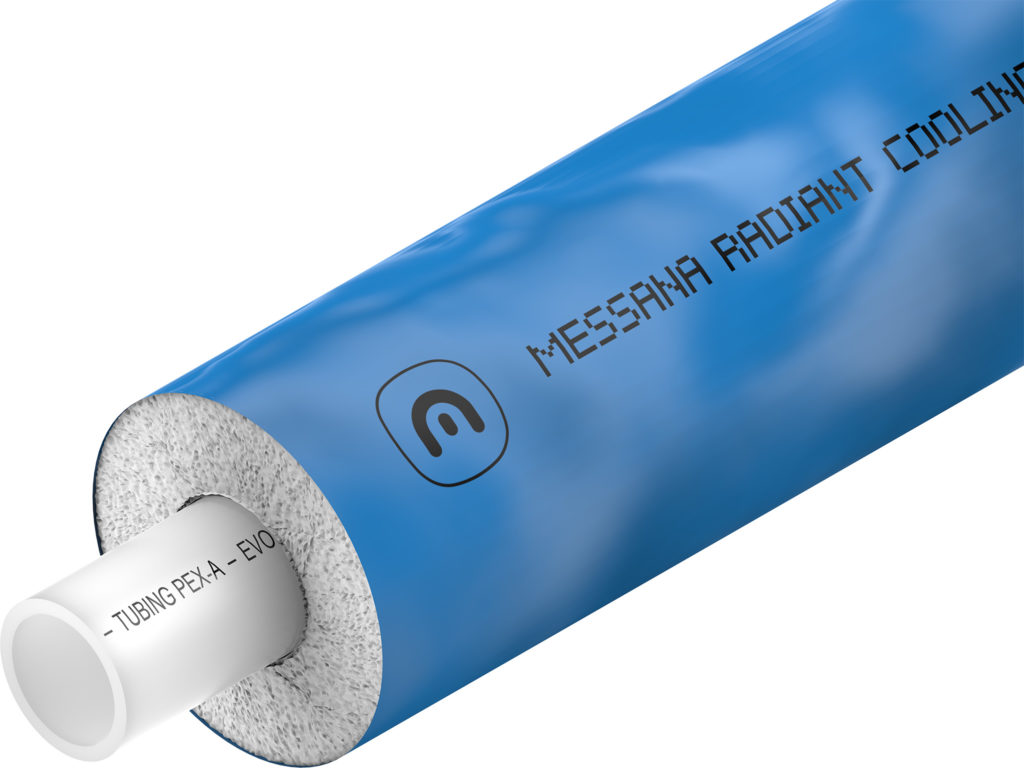 Table Header

Pre-insulated 1/2" PEX-a pipe (available in 100ft coils or 8ft straight lengths)

Coil (100ft)
PEXA1/2-100I

Straight length (approx 8ft)
PEXA1/2-7.5I

Approved for use with Messana Ray Magic radiant panels

EPE insulation with extra protective polyethylene film

High-pressure peroxide method for crosslinked polyethylene (PEX-a)

Three layer EVHO oxygen diffusion barrier to prevent oxygen to enter the hydronic system

Comply with the SDR-9 (Standard Dimension Ratio)
Table Header

0.07" (1.78 mm min, 2.03 mm max)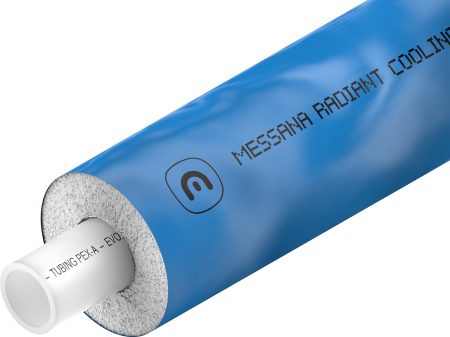 Table Header

VA 10 spacer ring (M30x1.5) (included with the product)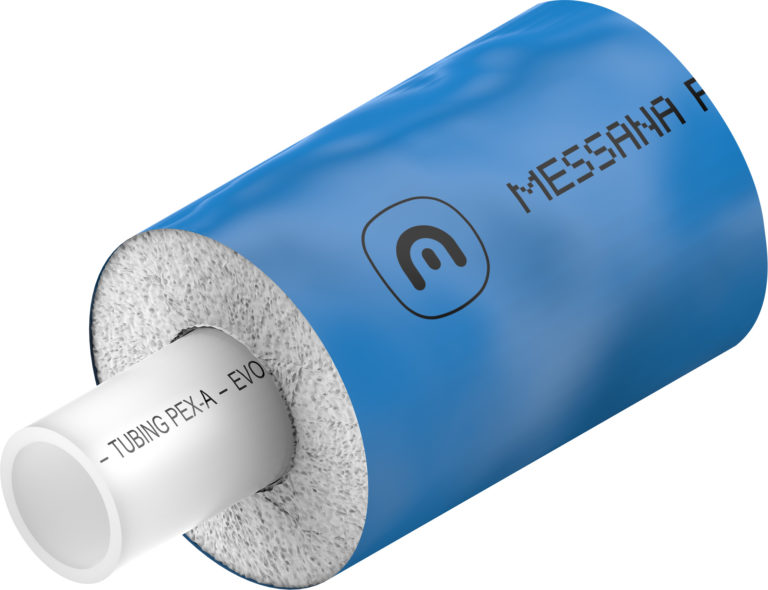 Table Header

Natural color tubing with blue insulation PE protective film

Meets or exceeds the requirements of ASTM F876/877, F1960 - CSA B137.5 - NSF 14, 61

1.1" of linear expansion for 100ft of tubing at a 10° F temperature rise

Minimum recommended bending radius is 8 x OD: 5" (128 mm)

EPE Polyethylene foam 3/8" (10 mm) in thickens in compliance with ASTM84. Additional outer PE protective layer
Table Header

MESSANA RADIANT COOLING – TUBING PEX-A – EVOH OXYGEN BARRIER – ASTM F876/877, F1960 – CSA B137.5 – NSF 14, 61 – 100FT [mm/dd/yy] [hour] [line] [counter] [']
Table Header

30 x 30 x 63⁄8 inches
(760x760x160 mm)

311⁄2 x 311⁄2 x 100 inches
(800x800x2450 mm)
Table Header

This pipe is an OEM product manufactured for Messana Inc. under its specifications. The original manufacturer guarantees its pipes against defective materials and manufacturing defects for 10 years. For more information read the

PEX-a pipe warranty

terms available online at messana.tech.

1. 

Size, weights and technical characteristics may vary without prior notice.

2. 

Measurements in inches are converted from mm and approximated to the nearest 1/8" fraction.
A Messana system helps you save energy and lower your energy bill
Green Your Home… Reduce your carbon Footprint!